• 4.07.2011
Ciao! I apologize for the absence, life has pulled me in many different directions recently but I am thrilled to be back. My latest obsession? Gypset! Check out my gypset inspired finds:
Vibrant gifts tags from Etsy shop
Paper Monster 2009
. Did I mention that they are on super sale for only one dollar? Gasp- it's time to shop friends!
Loomed Bowl from my beloved
Anthropologie
.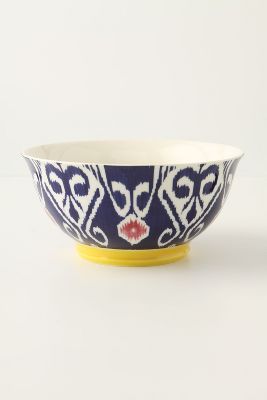 How great is this dress? Like a punchy ray of sunshine straight from the genius that is
Marc Jacobs
.
Need a gypset inspired recipe? Why not make my scrumptious hummus, which is best when served with a selection of blanched vegetables and some spiced pita bread.
Ingredients:
5 garlic cloves
2 cups chick peas
2 lemons- juice and zest
1/3 cup tahini
1 handful of parsely
1/2 chopped fresh jalapeno
1 1/2 tablespoons Sriracha sauce (use this to taste)
1 1/2 teaspoons kosher salt (or sea salt)
Feta cheese
To Do:
Use a food processor to finely chop garlic. Then, add remaining ingredients and pulse until somewhat smooth but still chunky. Top with crumbles of feta cheese and fresh parsely.
Q & A: What's your latest obsession?
This entry was posted on 12:07 AM You can follow any responses to this entry through the RSS 2.0 feed. You can leave a response, or trackback from your own site.